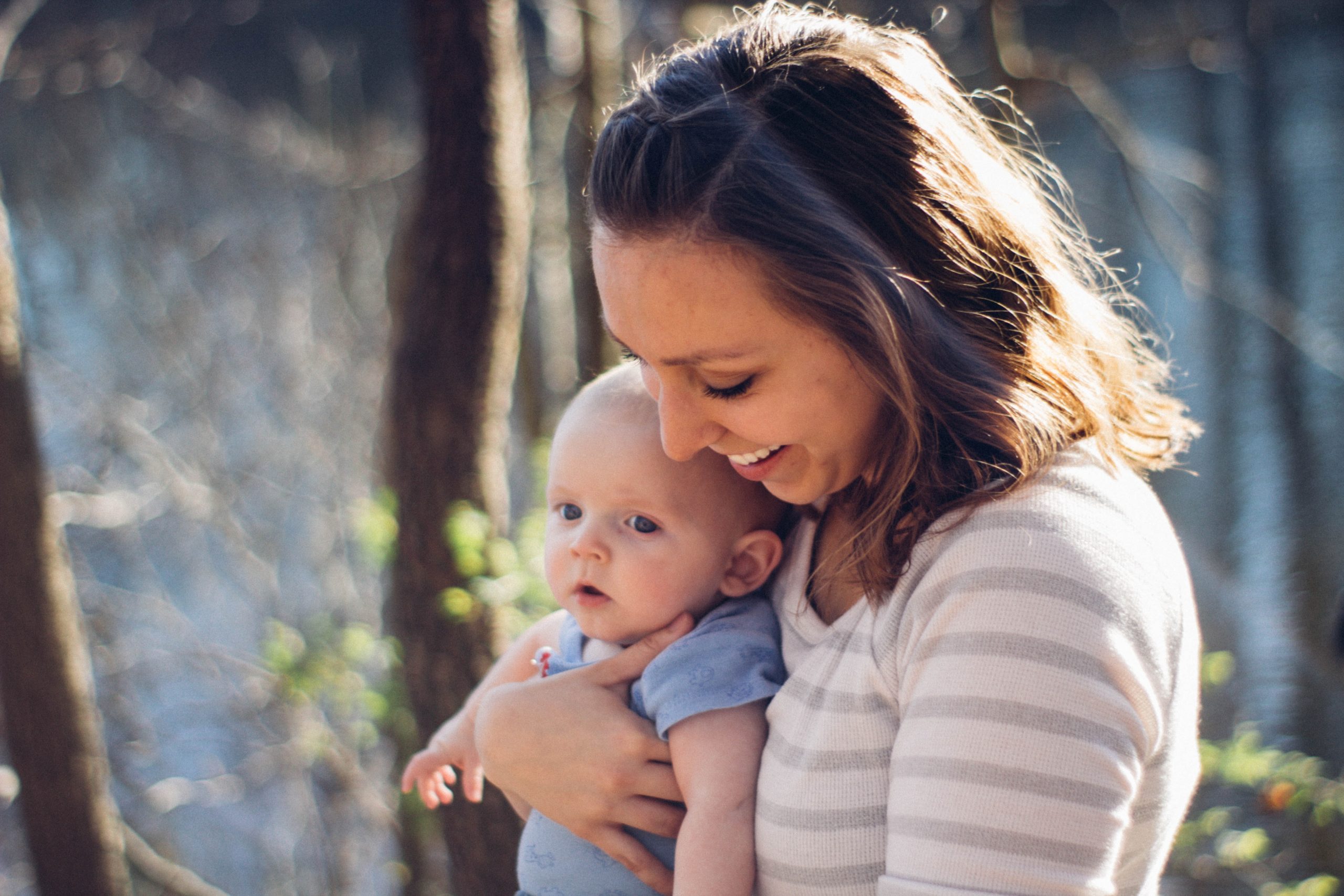 Mummy MOT Blog Diaries with Lizzie Cookson
Not sure how you should be feeling or what you need to do to recover?
We know how hard it can be for new mums to get the help you need on your post-baby rehabilitation journey, but our WomanKind Health service is here to support you with Mummy MOT!
Mummy MOT is a women's health physio assessment for new mums – we gauge your posture, breathing, abdominal muscles and pelvic floor and recommend further postnatal exercises and other recovery services. You can find out more on our Mummy MOT page
Lizzie Cookson, one of our fabulous Mummy MOT clients, has kindly agreed to share her Mummy MOT story right here. And we start right at the beginning of her postnatal journey, Christmas 2021..
Christmas Eve 2021 Six weeks post-partum
Six weeks of Poppy Isabella! What a blissful time of falling in love with our precious new baby, resting and recovering, dutifully responding to the reminders of the pelvic floor 'Squeezy' app and embracing the extra warmth provided by the delightful green NHS support stockings I have been advised to wear.
Being someone who is usually mindful about food choices, I have thrown caution to the wind and embraced all the festive chocs, mince pies and other foodie delights. I need it for all that breastfeeding, right?! But now my six weeks of bliss has passed, it's time to hang up the stockings and enjoy a bonus week of indulgence before my Mummy MOT guides me on to the next part of my postnatal recovery…
Read on to find out more about my Mummy MOT journey with Katie Bell Physiotherapy & Wellness.
4th January 2022 - seven weeks post-partum
Back to reality and discovering a new normal with three children to look after! I was so excited to have my first Mummy MOT this afternoon. Poppy and I were met with a warm welcome by the Reception team and Laura, my physiotherapist. Once we were settled in the treatment room I was instantly put at ease and had a relaxed chat through my birth experience and relevant details from previous births. It was reassuring to see how Laura took the time to understand the full picture to be able to offer such a personalised path to recovery and reaching my future goals. Laura asked me questions about how different areas of my body were feeling and healing. I felt very comfortable sharing this information with her and speaking openly. We also discussed my goals. Being a dance teacher, I rely on my body functioning at its best, so it's important to me to make sure I'm taking my return to exercise carefully but with a good sense of purpose.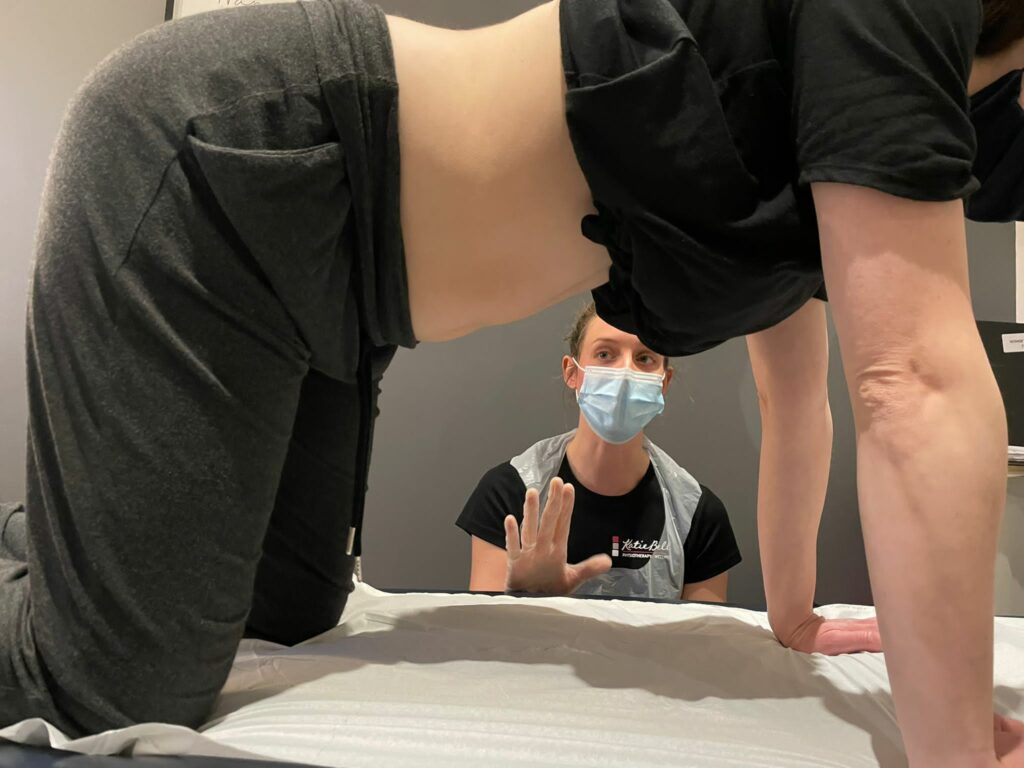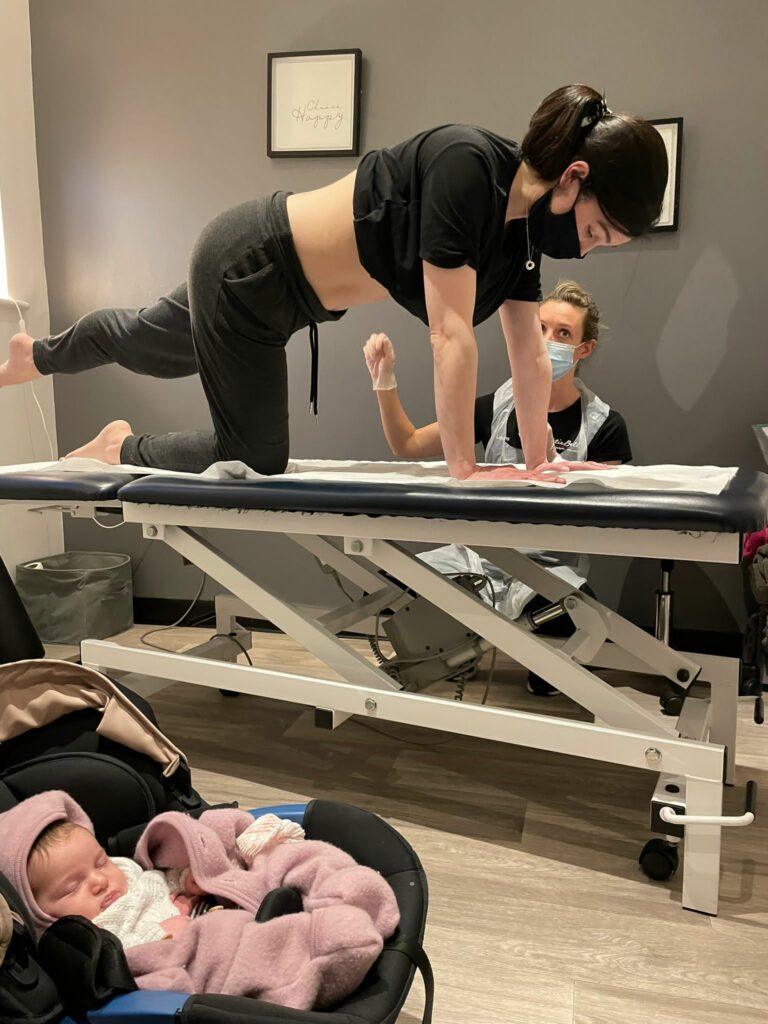 What happened during my Mummy MOT?
With the background information complete Laura offered me an internal pelvic examination. Although not on anyone's list of top things to do, it was not in any way uncomfortable and actually really reassuring to know exactly how things are healing and progressing. As with any other physiotherapy session, we would not expect a treatment plan without an examination of the relevant muscles, and the pelvic floor muscles are no different!
After my examination, Laura guided me through a few simple exercises and stretches to assess the muscles in my back and abdominal area. Firstly, standing and then lying down. Throughout the assessment I was shown and talked through a range of exercises that I'd be able to do at home. Laura wrote them all down for me, so I came away from the session feeling very clear about how my body is doing and the steps I can take to move forward safely and gain the strength back that I require.
Having neglected my pelvic floor in the past, and certainly between previous pregnancies, I'm very keen to embrace the exercises which will give me the best pelvic health possible going forward. I also want to carefully rehabilitate my abdominal muscles and I feel confident from my first session today that I can follow Laura's advice and get my body to where I'd like it to be. I am also looking forward to a taster session on Monday of the Mummy & Me Pilates class too.
If you have any questions or would like to book an appointment you can send us a message, email us, call us or book online.
I saw Emily for quite a few months after the birth of my baby and she was amazing. I honestly couldn't have been better looked after by her. She was so reassuring and gave me a plan for getting rehab and getting back into fitness. Emily is also so lovely to deal with and I really enjoyed our sessions. She is really knowledgeable and you just know you are in safe hands. I used to have regular massages with Hannah and James who were both excellent. I only stopped because we moved out the area. The Diamond package for monthly massages is well worth it. I also went to the baby and me Pilates course, which was really well led with great corrections.
Great overall experience! I went in and did a taster session, loved it so much that i now attend every week. The place is really friendly, well organised and i am progressing nicely. Big thanks to everyone at Katie Bell.
Fantastic Pilates sessions with amazing instructors. Would highly recommend!
robert addenbrooke
2022-06-24
Friendly, personal attention from all the staff, nothing too much trouble. Glad to have found such an enjoyable place to keep fit.
I've had 3 sports massages over past few months with James and I've been really pleased with the service each time. The practice is clean and calming and all the staff are lovely. Would recommend to anyone!
Justin Parfitt
2022-04-27
What a friendly and professional team at Katie Bell - I have thoroughly enjoyed my pilates classes so far and am already feeling the benefits - great to come across such a well run organisation that exceeds expectations.
Tarandeep Rallowal
2022-03-01
Amazing service and treatment plan, helped me resolve a long running chest injury with speed and efficiency!
Gabriela Lopez-Gonzalez
2021-11-11
Great pilates, yoga and staying fit. I have been attending the strength and conditioning classes for the last 3 months and can feel the difference.
Matthew Robinson
2021-10-13
Excellent service, had a strain in my back and they made me an appointment the same day. All staff were great, the consultation and sports massage was so beneficial and really helped, good tips and advice as well. Well worth it and would recommend to everyone.