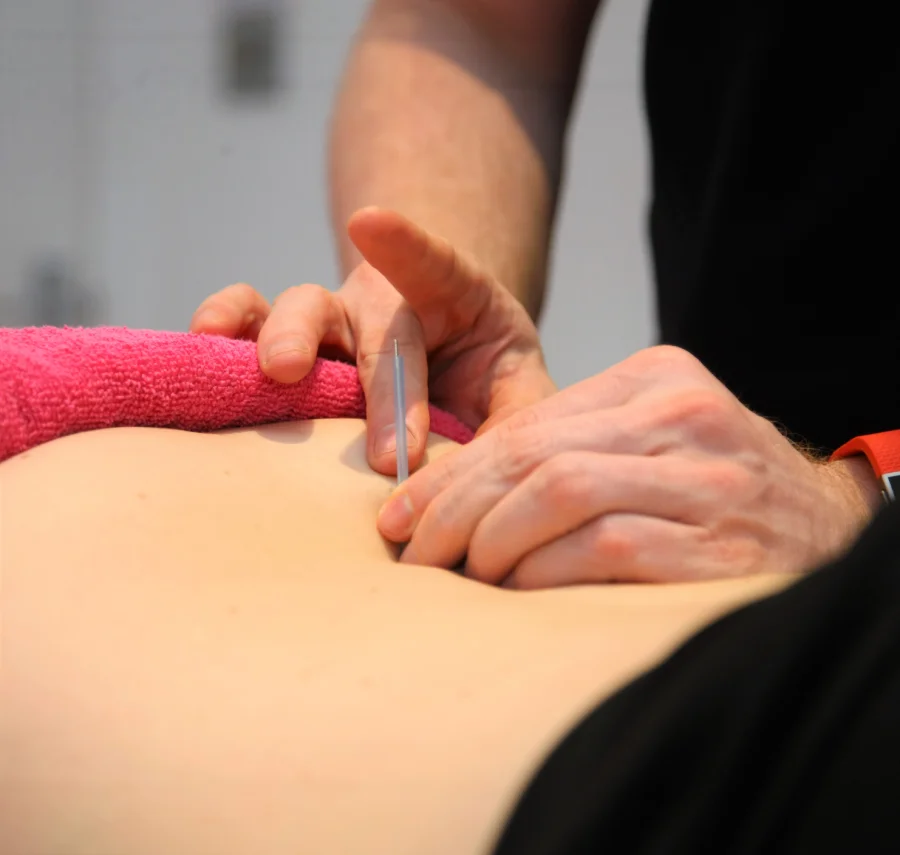 We offer professional acupuncture services to enhance your overall well-being and facilitate your journey towards optimal health.
Our experienced team of physiotherapists integrates the ancient practice of acupuncture into our comprehensive treatment approach, providing you with a holistic and effective solution for pain relief, injury recovery, and promoting balance within your body.
Through the insertion of fine, sterile needles into specific acupuncture points, we stimulate the body's natural healing response, encouraging the flow of energy and restoring harmony to the affected areas.
Our acupuncture services are tailored to address a wide range of conditions, including musculoskeletal pain, sports injuries, headaches, stress, pelvic health issues.
By combining our expertise in physiotherapy with the ancient wisdom of acupuncture, we deliver personalised and evidence-based care that supports your physical and emotional well-being.
To find out more, and whether this treatment approach would be suitable for you. Contact us here.
What are the Benefits of Acupuncture?
Acupuncture has been used for thousands of years and involves using sterilised fine needles to boost your body's repair mechanisms, allowing for a speedier recovery time.  This is accomplished by stimulating the central nervous system, which releases even more pain-relieving chemicals such as melatonin and serotonin. When combined with other physiotherapy treatments,  the results can be really impressive.
Which conditions does Acupuncture treat?
Acupuncture is considered very beneficial in treating a wide-range of health issues. As Physiotherapists using acupuncture within their treatment, it an help alleviate pain, reduce aches, reduce headaches and migraines, reduce stress and improve sleep.
The most common issues we often use acupuncture for is:
Back pain (acute or chronic)
Tennis elbow, Golfers Elbow
Neck pain
Headaches
Shoulder pain
Osteoarthritis of the knee
Sciatica
Pelvic Health issues
If you suffer from any of the conditions listed above, discuss your symptoms with your physiotherapist, they will be able to guide you through the treatment process and provide a holistic approach.
What can you expect during your Acupuncture Appointment?
This will all depend on what your expert physiotherapist determines as the best technique to use for your particular problem. For instance, conventional acupuncture typically involves leaving the needles in position for around 20-30 minutes before removing them. Conversely, trigger point acupuncture is often much quicker, with the needle placed into the affected muscle until your therapist feels it relax.
Whatever the best course of acupuncture, though, your physiotherapist will make sure to talk you through what to expect and ensure you feel completely relaxed and comfortable during the whole process.
If you have any questions or would like to book an appointment you can send us a message, email us, call us or book online.
I saw Emily for quite a few months after the birth of my baby and she was amazing. I honestly couldn't have been better looked after by her. She was so reassuring and gave me a plan for getting rehab and getting back into fitness. Emily is also so lovely to deal with and I really enjoyed our sessions. She is really knowledgeable and you just know you are in safe hands. I used to have regular massages with Hannah and James who were both excellent. I only stopped because we moved out the area. The Diamond package for monthly massages is well worth it. I also went to the baby and me Pilates course, which was really well led with great corrections.
Great overall experience! I went in and did a taster session, loved it so much that i now attend every week. The place is really friendly, well organised and i am progressing nicely. Big thanks to everyone at Katie Bell.
Fantastic Pilates sessions with amazing instructors. Would highly recommend!
robert addenbrooke
2022-06-24
Friendly, personal attention from all the staff, nothing too much trouble. Glad to have found such an enjoyable place to keep fit.
I've had 3 sports massages over past few months with James and I've been really pleased with the service each time. The practice is clean and calming and all the staff are lovely. Would recommend to anyone!
Justin Parfitt
2022-04-27
What a friendly and professional team at Katie Bell - I have thoroughly enjoyed my pilates classes so far and am already feeling the benefits - great to come across such a well run organisation that exceeds expectations.
Tarandeep Rallowal
2022-03-01
Amazing service and treatment plan, helped me resolve a long running chest injury with speed and efficiency!
Gabriela Lopez-Gonzalez
2021-11-11
Great pilates, yoga and staying fit. I have been attending the strength and conditioning classes for the last 3 months and can feel the difference.
Matthew Robinson
2021-10-13
Excellent service, had a strain in my back and they made me an appointment the same day. All staff were great, the consultation and sports massage was so beneficial and really helped, good tips and advice as well. Well worth it and would recommend to everyone.