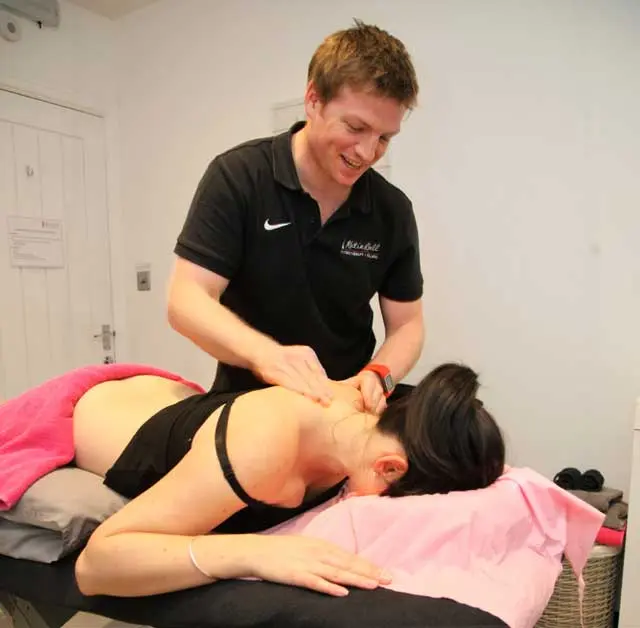 A sports massage is extremely effective at reducing aches and pains, reducing stress and tension, and optimising your sports performance, although you don't have to play sport to benefit!
Types of Sports Massage
Our sports massage services are tailored to cater to your individual requirements. Depending on your needs, you can choose from various types of sports massage, including:
Pre-Event Massage: This invigorating massage focuses on preparing your muscles and mind for optimal performance before a sports event or competition.
Post-Event Massage: After an intense physical activity, this recovery-focused massage aids in reducing muscle soreness and promoting faster recovery.
Maintenance Massage: Regular maintenance massages are designed to prevent injuries, maintain muscle health, and enhance your overall athletic performance and help manage and reduce stress and tension.
Rehabilitation Massage: If you're recovering from a sports-related injury, this targeted massage can help speed up the healing process and restore functionality.
How to get started
One sports massage will make you feel great, but we like to think of it like pouring one bucket of water over a very hot fire, it will relight soon enough. We have designed three packages to make your treatment and rehabilitation as cost effective as possible. We have a Gold (3 massages), Platinum (6 massages) and Diamond massage program (1 or 2 massages per month).
Our Diamond Program is the most cost effective way to keep you moving well, feeling well and living well all year round. With a monthly subscription, it guarantees life wont get in the way! We manage all your appointments, and you don't need to even remember to bring payment options to your session! Your sessions can be rolled within a 12 month period, or even gifted if your feeling kind!
If you have any questions or would like to book an appointment you can send us a message, email us, call us or book online.
I saw Emily for quite a few months after the birth of my baby and she was amazing. I honestly couldn't have been better looked after by her. She was so reassuring and gave me a plan for getting rehab and getting back into fitness. Emily is also so lovely to deal with and I really enjoyed our sessions. She is really knowledgeable and you just know you are in safe hands. I used to have regular massages with Hannah and James who were both excellent. I only stopped because we moved out the area. The Diamond package for monthly massages is well worth it. I also went to the baby and me Pilates course, which was really well led with great corrections.
Great overall experience! I went in and did a taster session, loved it so much that i now attend every week. The place is really friendly, well organised and i am progressing nicely. Big thanks to everyone at Katie Bell.
Fantastic Pilates sessions with amazing instructors. Would highly recommend!
robert addenbrooke
2022-06-24
Friendly, personal attention from all the staff, nothing too much trouble. Glad to have found such an enjoyable place to keep fit.
I've had 3 sports massages over past few months with James and I've been really pleased with the service each time. The practice is clean and calming and all the staff are lovely. Would recommend to anyone!
Justin Parfitt
2022-04-27
What a friendly and professional team at Katie Bell - I have thoroughly enjoyed my pilates classes so far and am already feeling the benefits - great to come across such a well run organisation that exceeds expectations.
Tarandeep Rallowal
2022-03-01
Amazing service and treatment plan, helped me resolve a long running chest injury with speed and efficiency!
Gabriela Lopez-Gonzalez
2021-11-11
Great pilates, yoga and staying fit. I have been attending the strength and conditioning classes for the last 3 months and can feel the difference.
Matthew Robinson
2021-10-13
Excellent service, had a strain in my back and they made me an appointment the same day. All staff were great, the consultation and sports massage was so beneficial and really helped, good tips and advice as well. Well worth it and would recommend to everyone.