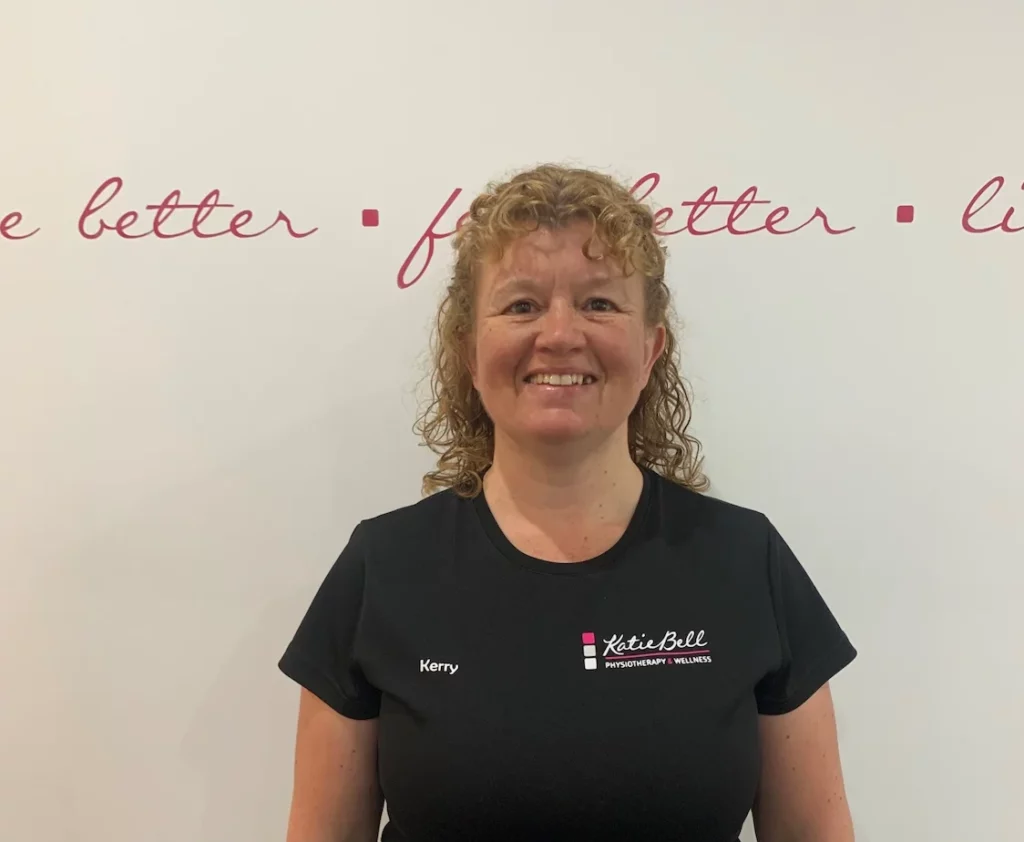 I've been with Katie Bell Physio since 2021. I decided to specialise in the field of musculoskeletal Physiotherapy as a junior Physiotherapist in 2005. Since then I have completed post graduate courses to develop my skills and over the years I have treated a wide variety of people with all manner of different problems. 
I have been a Physiotherapist since 2005 – how time flies! I like that there's always opportunities to learn and develop my skills and I get great satisfaction from helping people achieve their health goals. Whether it's recovering from an injury, managing a long term problem or supporting someone to be stronger for longer. I really enjoy working with people to improve their pain and give them the confidence, and ability to do what they want to do when they want to do it.
Katie Bell Physio is such a friendly place to work. When I first started I received lots of welcome messages which made me feel very comfortable. I like that KB Physiotherapy really values the local community. The staff here really do care and go that extra mile for their clients.
Qualifications, Achievements & Relevant Experience:
MSc in Rehabilitation Science from Glasgow Caledonian University, 2004

5 years experience working in the NHS in Edinburgh

Acupuncture Qualified, 2010

APPI Pilates Qualified

Chair Based Exercise Qualified

PSI (Postural Stability Instructor) Qualified

Musculoskeletal Physiotherapist since 2005
Hobbies, Hidden Talents & More Info
Outside of work I enjoy spending time with my 3 children. We enjoy camping and the great outdoors. We recently tried abseiling and canoeing – we had a great day and by cheating my daughter and I won the canoe race against my 2 sons. I do spend a lot of time taking my kids to their various sporting activities and embarrassing them (so they tell me) when I cheer them on. I enjoy reading when I have a quiet moment and I try to keep myself fit by participating in HIIT classes – I do like that post workout buzz.
As a working mum with 3 kids I am busy most of the time. I love being Physiotherapist, however when I was at school I wanted to become a Vet. I wasn't successful getting into vet school so I graduated with an Honours degree in Biological Sciences from the University of Edinburgh in 2000. I used to participate in a lot of sport, particularly athletics and through injury I learnt about Physiotherapy. After graduation I worked as Physiotherapy assistant for a year in a Mental Health hospital – I loved this so much I decided to go back to University to become a Physiotherapist. As for a hidden talent, I don't have one. I enjoy singing but my kids reassure me that it's not a talent.
If you have any questions or would like to book an appointment you can send us a message, email us, call us or book online.
I saw Emily for quite a few months after the birth of my baby and she was amazing. I honestly couldn't have been better looked after by her. She was so reassuring and gave me a plan for getting rehab and getting back into fitness. Emily is also so lovely to deal with and I really enjoyed our sessions. She is really knowledgeable and you just know you are in safe hands. I used to have regular massages with Hannah and James who were both excellent. I only stopped because we moved out the area. The Diamond package for monthly massages is well worth it. I also went to the baby and me Pilates course, which was really well led with great corrections.
Great overall experience! I went in and did a taster session, loved it so much that i now attend every week. The place is really friendly, well organised and i am progressing nicely. Big thanks to everyone at Katie Bell.
Fantastic Pilates sessions with amazing instructors. Would highly recommend!
robert addenbrooke
2022-06-24
Friendly, personal attention from all the staff, nothing too much trouble. Glad to have found such an enjoyable place to keep fit.
I've had 3 sports massages over past few months with James and I've been really pleased with the service each time. The practice is clean and calming and all the staff are lovely. Would recommend to anyone!
Justin Parfitt
2022-04-27
What a friendly and professional team at Katie Bell - I have thoroughly enjoyed my pilates classes so far and am already feeling the benefits - great to come across such a well run organisation that exceeds expectations.
Tarandeep Rallowal
2022-03-01
Amazing service and treatment plan, helped me resolve a long running chest injury with speed and efficiency!
Gabriela Lopez-Gonzalez
2021-11-11
Great pilates, yoga and staying fit. I have been attending the strength and conditioning classes for the last 3 months and can feel the difference.
Matthew Robinson
2021-10-13
Excellent service, had a strain in my back and they made me an appointment the same day. All staff were great, the consultation and sports massage was so beneficial and really helped, good tips and advice as well. Well worth it and would recommend to everyone.