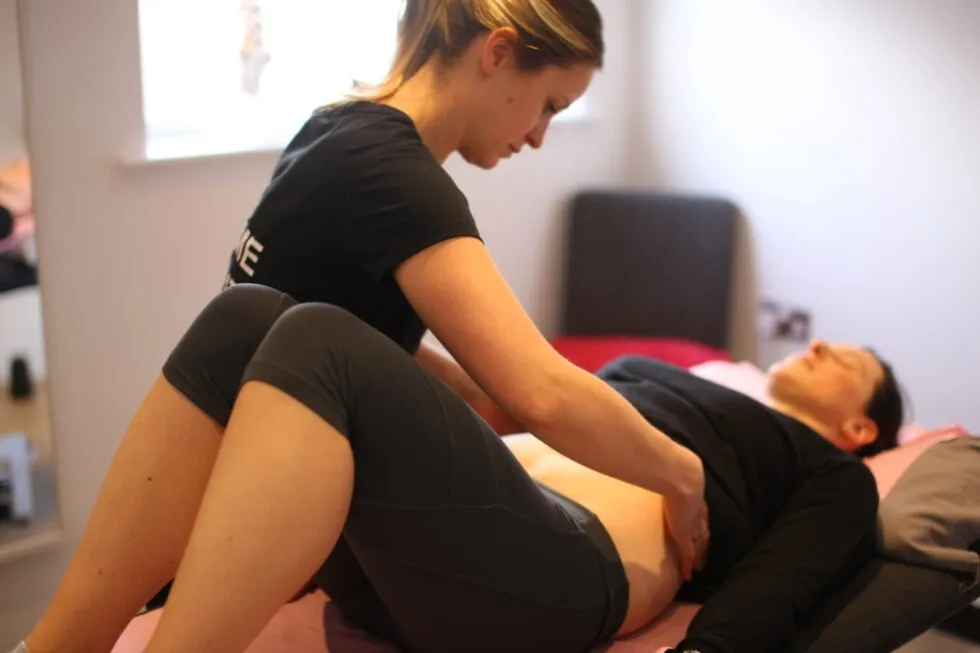 Women experience many symptoms which are very common, but not normal, and we know they can severely impact your quality of life. The good news is that there is help at hand! Lots of these symptoms can be prevented and treated by a women's health physio. In this article, our team explores all the things a women's physiotherapist can help with, as well as deep-diving into what a typical appointment looks like.
So, why should you see a women's health physiotherapist? Women's health physiotherpaists can treat a range of symptoms including painful sex, urinary and faecal incontinence, pregnancy-related symptoms, post-natal rehabilitation, general pain, and more. They can help you treat pain and in turn, improve your everyday life. 
Read on to find out what symptoms a physiotherapist can help relieve, what to expect from your appointment, and what treatment might look like for you.
What Symptoms Can a Women's Health Physiotherapist Treat?
A qualified and experienced women's health physiotherapist will be able to treat and advise on a number of conditions relating to pregnancy, sex, body, movement, and more. Below, we've outlined just some of the conditions a physiotherapist could help with:
For more information on how often you should see a physiotherapy practitioner for optimal health and to keep free of pain, read our in-depth article – 'When Should I See a Physiotherapist?'.
Urinary & Faecal Incontinence
A women's health physiotherapist can help with a number of urinary issues, whether that be stress, urge or urgency. They may be able to help if you are leaking urine when you cough, sneeze, laugh, or jump. Or you may find you're not able to hold on to reach the toilet in time. We can help if you struggle with leaking or loss of control of a bowel movement.
Wind & Constipation
If you have difficulty controlling wind, or you struggle with constipation, we'd suggest coming to visit us. Our friendly women's health physiotherapists will be able to advise on the best treatments to help you feel better.
Pain During Sex
Painful sex isn't normal to experience. A women's health physiotherpist will be able to diagnose the cause of painful sex, as well as advising on the best course of treatment.
Pelvic Organ Prolapse
You may have pelvic organ prolapse if you're experiencing a feeling of bulging or heaviness from the vagina. Your women's physiotherapist will be able to assess the prolapse on a professional level.
Pregnancy & Postnatal Rehabilitation
Whether you are suffering with pregnancy-related pain, or Diastasis Rectus (also known as "tummy gap") post pregnancy, we will be able to advise on the best exercises and movements to do to get you feeling and moving better. Not only that, but our women's health physios can advise you on postnatal rehabilitation too!
General Pain
Pain comes in many different forms, and a women's health physiotherapist is able to help, or at least advise, on many causes. This may be postural or musculoskeletal pain in your lower back, hips, or pelvis (pregnancy-related or not). Pain may also be caused by PGP, endometriosis, bladder pain syndrome, or interstitial cystitis.
Menopause
Menopause can take a toll on your body, causing a number of symptoms, including aches and pains. If you'd like to find out how women's health physiotherapy can help relieve pain from menopaise, read one of our recent articles – 'Managing Menopause with Women's Health Physiotherapy'.
What Can You Expect From a Women's Health Physiotherapy Appointment?
Your initial assessment will be for an hour, which (sometimes) can be mainly talking. You'll be able to tell us your story in a safe, patient, caring environment. We may ask you further questions around your symptoms and any previous treatment you might have had. We'll want to know what's important to you and what you love doing, so that we can help get you back to just that!
The idea of talking about such personal and intimate things may feel daunting, especially if it's the first time you've discussed them. We're sensitive to this though, and will do everything we can to put you at ease.
Urinary Issue Treatment
A women's health physio may ask you to complete a bladder diary to look at what you're drinking, how often you go to the toilet and how much urine you pass. This will help us to prescribe bladder training strategies to help you to improve your symptoms – bespoke for you.
Pregnancy-Related Treatment 
For diastasis recti, back and pregnancy-related pelvic pain symptoms, we'll assess how you're moving and do some tests to try and find the cause of your pain. We'll also assess the tension in your deep tummy muscles.
General Pain Treatment
For bladder, bowel and persistent pelvic pain symptoms, we may complete an external and internal assessment of your pelvic floor muscles to assess your muscle strength, endurance, and coordination. We'll make sure you leave our clinic feeling confident about how to correctly exercise your muscles, relevant to your symptoms.
What Might Physiotherapy Treatment Look Like?
Your personalised treatment plan will depend on our assessment findings. We may prescribe a pelvic floor muscle training programme to improve your symptoms. Guidelines recommend three months of supervised pelvic floor muscle training for urinary incontinence and four months for pelvic organ prolapse and faecal incontinence.
There could be a need to focus on your diaphragmatic breathing and lots of stretches to fully relax and release the muscles in and around the pelvis and lower limbs. Other treatments could include exercises to rebuild and strengthen all these different structures in your body.
We may suggest ways to modify your diet, hydration and lifestyle to improve your symptoms. You might benefit from some manual therapy to increase joint mobility and release tension in your soft tissues. Another treatment option may be acupuncture.
What Will You Feel Like After Seeing a Women's Health Physiotherapist?
You'll feel relieved and reassured that you're not alone in your symptoms and there is help available! If, however, we are not the most appropriate place for you we will ensure to signpost and refer you on to somewhere that can help. Finally, we'll ensure you confidently move through your rehab journey with our guidance and support to achieve those all-important goals.
Women's Health Physiotherapy in Sheffield
If you're looking for friendly women's health physiotherapists in the Sheffield area, get in touch with the team at Katie Bell Physio. We aim to empower women who visit our clinic to take back control of the symptoms affecting them. Our experienced team treats a range of issues, working closely with you to get you feeling better everyday.
Not only do we offer effective lifestyle treatments, but our clients also walk away with guidance on improving their lifestyle themselves at home, as well as any future support from our team, should they need it. To book your appointment, simply get in touch with our team.
Our award winning services will help you move better, feel better and live better. Contact us today!