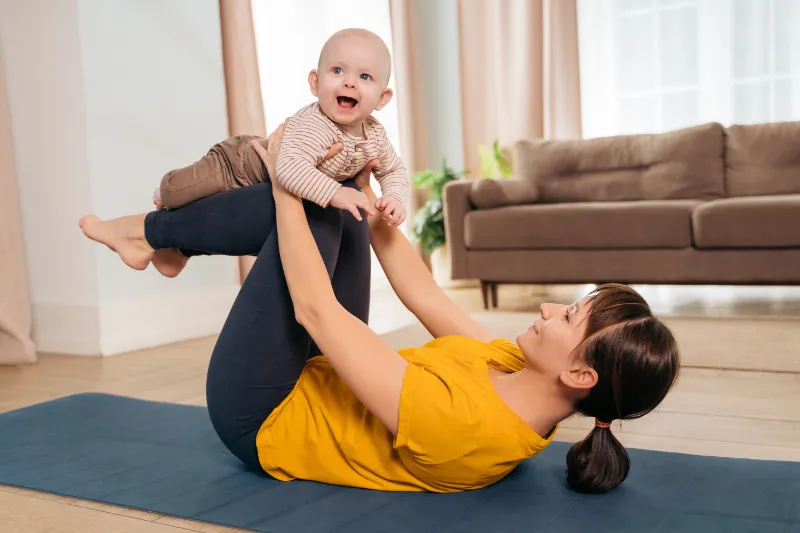 We are excited to share with you the introduction to our new online pelvic floor programme: 'Pelvic Floor, Core and More'.
This is a progressive pelvic floor correcting "programme" designed not only to help you see the improvements in your pelvic floor control but also empower you to make great health choices for your long term pelvic floor function.
This 6-week programme will be delivered completely online to you so you can watch it at your convenience making sure you don't miss out on valuable support during this time.
Who is this course for?
This course is ideal for women who want to not only restore or improve their pelvic floor control but also invest in their long term pelvic health. It is ideal for any post-natal woman, especially those planning any gynae surgery or who feel they've never fully recovered from their pregnancies. If that sounds like you, then this course can help you get started on the road to investing in your pelvic health.
How will this course benefit you?
In this course you will:
Learn how to properly practice your pelvic floor exercises.
Rebuild the coordination of your whole core.
Learn how to protect your pelvic floor from damage from poor pelvic habits like constipation.
Connect with how your body really works.
Incorporate your pelvic floor and core into movement.
Improve your posture.
Understand how and when to progress to higher levels of activity.
Get accountability to improve the outcome of your training.
What will you learn each week?
Session 1: The Wink & Zip. 
Many women feel unsure how to get the best out of their exercises. How do you do it? How many, What position, How do I know I'm doing it right? This session will teach you everything you need to know to confidently get going with your exercises.
Session 2: Getting specific. 
Now you have mastered the basics let's develop how you're training so you can get the most out of your pelvic floor exercises. In this session you will learn not only how to progress your exercises but also to incorporate it into function. We will start our journey to invest in pelvic health firstly by optimising your fluid intake.
Session 3: Moving on up.
By now you will be starting to feel more confident in your pelvic floor exercises and ready to get moving. Feeling confident in your pelvic floor will help you move better as you experience strength rather than vulnerability. This time we explore how to coordinate your pelvic floor with movements like the squat. We continue your pelvic health journey turning our attention to the bowels.
Session 4: The Breathe.
The breathe is an essential part of your pelvic floor function. Not only is it important for it to co-ordinate the diaphragm and pelvic floor but having them work together can make them more powerful. The Breathe is a powerful tool for our mental wellbeing too so in this session you will learn how to make the most of these different but equally impactful functions.
Session 5: The Importance of Posture.
We all know posture is important but do we really know the why and how of making the most of it? Knowing how to nourish your body through movement and alignment not only improves your joint health but also impacts your pelvic floor function. In this session we explore how the posture changes and what you can do to get the most out of yours.
Session 6: Beyond the Core.
As we close our time together we apply what you have learn to loading the core and helping you understand when the right time is for you to progress your physical activity levels. In this session we will recap the course content and give you a chance to progress your practice.
*If at any point in the course you feel you are not able to activate your pelvic floor, experience pain or any other issues you should pause your practice and contact the studio for advice. 
Click on the link below and your program will be emailed to you within 24 hours!
https://pay.gocardless.com/AL00010PSDT2P7
Course Cost: £30
Please follow this link to find out more about our Women's Health Physiotherapy.
Just wanted to tell you how fab the 6 week online course ' pelvic floor , core and more' was.
I started off with little trust that I'd see improvement, but Emily's friendly, concise and easy to understand sessions have been great!
I found it really useful to embed the exercises into my busy daily routine (I have a 5 year old and a 6 month old!) and in these unprecedented times I'm now much more comfortable bouncing around on the trampoline with the kids and doing the kids workout in the morning!
Yes these times are strange but Emily has been the catalyst to help me become healthier and happier with my body!
Jenny
I found the Pelvic Floor, Core and More online programme really useful (probably one of the most useful things I did in lockdown along with installing water butts and tidying every single cupboard in my house). My children are teenagers, so I am not a new mum, but I didn't work on my pelvic floor nearly enough before they were born or when they were little.
I do lots of running and this is when I still occasionally have issues with my weak pelvic floor.  I had previously seen Emily in the clinic for women's health physio sessions so this was a bit of a revision session for me and a chance to really focus on my pelvic floor again as I had become a bit lazy with doing regular exercises.
Emily demonstrates and explains the techniques really well and talks through other useful tips.  I enjoyed having a new video in my inbox each week as it gave me something to work on throughout the week before moving onto the next stage.  I would definitely recommend the course and the need to continue with the exercises every day afterwards!
Sarah
Our award winning services will help you move better, feel better and live better. Contact us today!