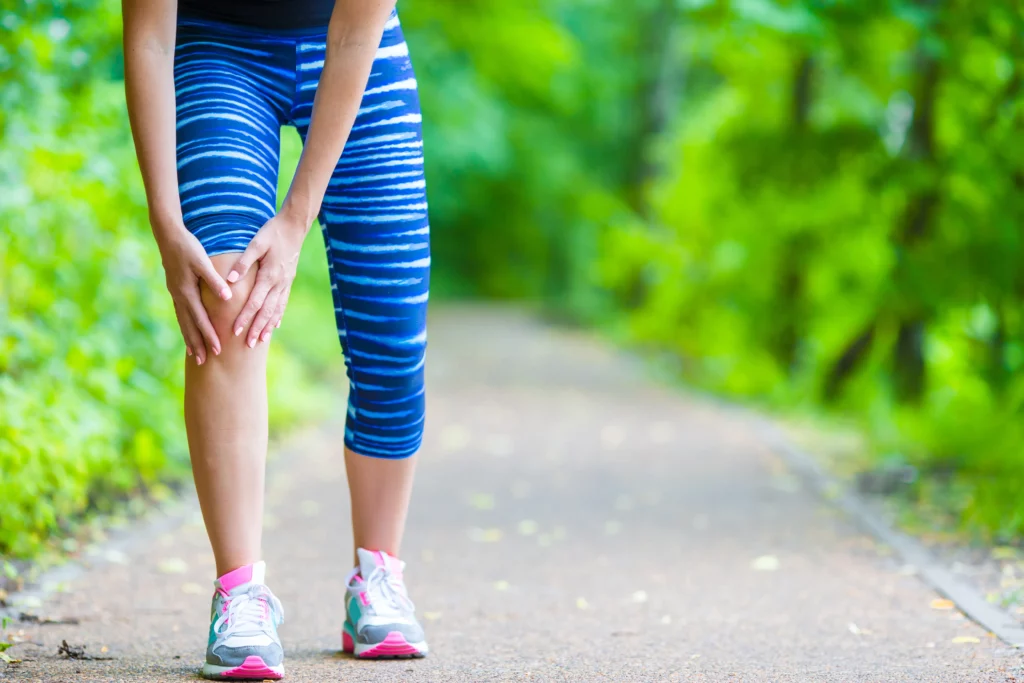 Running injuries are unfortunately far too common. The number of muscle groups and joints involved in propelling the body forward over what is often a prolonged period of time is ripe for injury. Here we take a look at some of the most common injuries, pay closing attention to what make them worse, how to make them better and whether or not you can keep running during such an injury.
Runners Knee
What is it: Known clinically as patellofemoral pain syndrome, this involves irritation of the cartilage on the underside of the kneecap. Runners complain of pain over the front of the knee, worsened by running downhill or when running for prolonged periods.
What makes it worse: Poor control of the foot posture seen as excessive inward foot rolling which puts more pressure through the knee. Having poor strength and altered length of the quads, hips, or gluteal muscles reduces the alignment over the knee.
What makes its better: Stretches to the Quads, hips and Gluteal muscles. Gluteal and leg strengthening exercises to improve the running action. A physio can show you how to use tape to reduce the pressure on the kneecap. Ice during the acute phase can assist in reducing the swelling.
Can I keep running: Reducing running duration and altering route to do shorter or less downhill sections whilst the inflammation settles, and the muscles are corrected. Alternatively swap training runs for uphill intervals with walking between reps and sets. If your pain is persistent and present throughout the day
Iliotibial Band syndrome (ITBS)
What is it: ITBS is an increased tension and irritation of the connective tissue running from the hip muscles, down the outside of the thigh to the knee. As you run, the moment you make connection with your heel to the ground, your knee is roughly at 30 degrees flexion. The combination of the position of the ITB against the thigh bones and the loading of stepping onto your leg enflames the band. Runners commonly notice a pain on the outside of the knee.
What makes it worse: Poor control of your foot usually associated with weakness of the 'chain' of muscles running down from the Gluteal to the hip and through the quads then down into the inner foot arch. If you have been increasing your mileage this can contribute as this condition worsens with more repetition. Avoid cycling and the cross trainer as alternatives, instead opt for walking, swimming and Pilates to aid your rehab as these don't repeatedly take you through this early flexion range.
What makes it better: Ensuring you have appropriate footwear with the correct support for your foot type. Improving the control and range of the hip movement including balance exercises with hip/leg strengthening. Strengthening specifically into the inner leg and hamstrings with stretches to the hip can help redistribute the pressure that loads into the ITB. A foam roller or spikey ball can be invaluable for releasing tension in the hip and gluteal muscles. Avoid using a foam roller to roll directly up and down the ITB as this drains the essential fluid from the tissues.
Can I keep running: If this is the first flare up and your symptoms are acute and mild- moderate then a few days off with a reduction of your overall mileage for a couple of weeks could nip it in the bud. Ignore these symptoms and you'll further inflame then tissue.
Achilles Tendonitis
What is it: Pain noted at the back of the heel and ankle. This point of pain is where the two major calf muscles meet and wind around each other attaching onto the heel bone. As these muscles become over stressed (by increased running speed or distance) they can tighten and become irritated.
What makes it worse: A sudden increase in running distance, speed or load. Heel raises or hopping exercises.
What makes it better: Ice, upper and deep calf stretches, eccentric heel lowering where you stand on the edge of a step and then lower the heel down followed by using the unaffected side to raise you back up helps to strengthen without further shortening the calf muscles.
Can I keep running: Ignoring this can lead to a long rehabilitation so take a break if you feel this pain for the first time. Review your running programme and consult a physio if it returns on returning to running.
Hamstring Strain
What is it: A strain or pull to the Hamstring muscles that run up that back of your thigh show a tension and loading issue. This means the tension or length of the muscle can not cope with the force or speed of force running through it.
What makes it worse: Running up hill, sprinting and weighted forwards bending. Both people with very tight or very flexible hamstrings are at risk of this injury.
What makes it better: When stretching make sure you keep your back straight and your knees in a very slight bend to ensure your target the hamstrings. Hamstring strengthening will need to be coupled with exercises for the calf, gluteal and spinal muscles to ensure they work as a team.
Can I keep running: Only if the pain isn't severe and acute, you have no bruising on the back of the thigh. Even then avoid hills or sprinting.
Shin Splints
What is it: Known as Medial Tibial Stress Syndrome, this condition triggers directly to loading with running or jumping. An imbalance of strength and length around the lower leg causes altered foot mechanics with strain into the Tibia (shin bone). Frustratingly this pain can linger around even after your stop the aggravating activity.
What makes its worse: Tightness of the quads, hamstring and calf muscles, repeated high loading such as running which involves forced pointing down of your foot against weight or resistance. Commonly if you have returned to running after a break you may have done too much too soon.
What makes it better: A physio can help you correct your foot alignment in walking and running thus reducing the adverse load on the bone. Ice and anti-inflammatories can help if you are safe to do so. Resting can allow the symptoms to subside. Include training that utilises muscles of the inner and out legs like side stepping to increase the stability of the pelvis, train the strength of the outer ankle and off load the patterns that exacerbate the original symptoms.
Can I keep running: The key to go back to running after shin splints is a very steady programme. Only allow small (ie no more than 10%) increases in training/loading.
Stress Fractures
What is it: These can occur in your shin, heel or small bones of the feet. They are small breaks in the bone that accumulate over time rather than on sudden acute fracture.
What makes it worse: Over training and ignoring the symptoms. Low calorie intake and Oestrogen deficiency in women can contribute to the bone health.
What makes it better: Luckily, weight-bearing exercise like running is protective, which means experience is on your side. "The longer you've been running, the lower your risk is. Water running or swimming are great options to build muscle strength and maintain cardiovascular fitness. Weight training and resistance training can help stimulate bone density
Can I keep running: NO – you need a full break from training to allow the bone to heal. Approximately 4 months. Pain free walking means you can try light jogging If your physio is satisfied with your rehab.
Plantar Fasciitis
What is it: Inflammation and pain noted at the heel into the sole of the foot associated with walking. This affects more women than men with symptoms being most severe after a period of non-weight bearing e.g. first thing in the morning when the tissues have had a chance to tighten.
What makes it worse: Reduced ankle movement and poor foot alignment put additional pressure into the sole of the foot. Prolonged running or standing can exacerbate your symptoms. Also tight hip flexors limit the movement through the hip all the way down into your big toe.
What makes it better: Ice – try rolling a cold can of fizzy drink under the sole of your foot. Wearing supportive shoes and avoiding barefoot on hard surfaces. Your physio can provide a strengthening programme to help correct the tension of the tissue across the sole of your foot. It is important that you get help to make sure your programme is correct – too little and your symptoms will linger, too much and your symptoms will worsen. Hip flexor stretches.
Can I keep running: Running can slow your progress which on average takes 6 months.
Physiotherapy Treatment For Runners in Sheffield
With the Sheffield Half Marathon just two months away, is it time to get some treatment and advice for that pain you've been experiencing whilst running? The worst thing you can do is increase your training load and be left with very little time to recover if the pain gets worse.
Therefore, if any of the above injuries sounds like something you're currently experiencing, then please get in touch today to book your complimentary physiotherapy consultation.
Our award winning services will help you move better, feel better and live better. Contact us today!