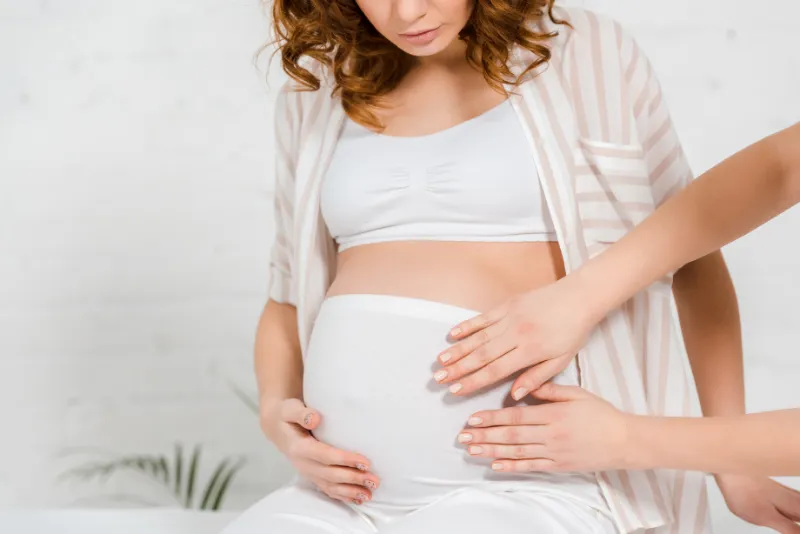 Massage therapy during pregnancy can reduce anxiety, relieve muscular aches and joint pain, and above all improve the labour experience, and newborn health.
That said, is a massage still allowed past the 38-week mark, despite the fact that the babies due date is approaching? Yes, a pregnancy massage is still safe even after 38 weeks of pregnancy. However, if your doctor has advised you not to have a pregnant massage due to underlying health or medical concerns, you should not have one. 
In fact, our highly experienced and qualified pregnancy massage therapist can help you cope and manage all the major changes and hormones in your body during each trimester which we know can be tough.  This article will focus solely on pregnancy massage at the 38-week stage, which is in the third trimester
Can I Have a Pregnancy Massage at 38 Weeks?
Unless your doctor has advised you not to have a pregnancy massage due to underlying health or medical concerns, or if your pregnancy is under consultant care, you have the green light to have a pregnancy massage once you've reached the 38-week mark and beyond.
Pregnancy massage should be performed by a fully trained massage therapist who is also acquainted and trained within pregnancy massage.
What are the Changes During 38 Weeks of Pregnancy?
This question is frequently asked because of the changes that occur throughout the third trimester. We have listed some of the changes below so you can be aware of what your body may go through.  It's also common that these symptoms are likely to worsen as your due date approaches.
Increasing back
Hip pain
Swollen legs
Restlessness
Exhaustion
Headaches.
Pregnancy massage during the third trimester however relieves intense aches, pains, and cramps in the hips, back, and leg muscles, alongside a reduction in swelling in the arms and legs. There is also a strong emphasis on getting you comfortable and ready for your labour.
Massage treatment relaxes and stretches birthing muscles, which helps to improve the outcome of labour by preparing the pelvis and hip muscles, lowering stress levels, and improving confidence and awareness of your birth before ovulation occurs.
Notably, as your baby grows and your due date approaches, your joints begin to loosen owing to the relaxing hormone, which prepares you for labour but causes discomfort and a 'loose' feeling with movements. Stretching and an exercise plan are frequently included in third-trimester massage sessions to help prepare the pelvis and legs for labour and delivery.
Benefits of a Pregnancy Massage at 38 Weeks
Pregnancy massage has a wide range of benefits, including both physical and psychological ones. We've gone into greater detail about the benefits below so you know exactly what to expect during and following your pregnancy massage.
Mind and Body Relaxation
Like most massages, they are all extremely relaxing. This even applies to pregnancy massage. Take advantage of the pregnancy massage to completely let go, relax your mind and body and relieve any pregnancy tension you may be feeling.
Reduction of Pregnancy-Related Aches and Pains
Pregnancy aches and pains are normal due to your increasing weight and shifting posture. Massage techniques administered by your pregnancy massage therapist aid in the alleviation of muscle tension, tightness, and general aches and pains.
Improved Sleep
The significant changes that occur with your body during pregnancy may, predictably, interrupt your sleep. Pregnancy massage can improve your sleep by relieving aches and pains and fostering general mind and body relaxation.
Reduce Anxiety Around Your Pregnancy
Pregnancy may be a stressful time, especially if it is your first pregnancy. The added benefit of seeing a specialist pregnancy massage therapist is that all of your questions or worries about your body and pregnancy may be addressed, which can help to alleviate any anxiety you are feeling.
Reduce Ankle & Feet Related Swelling and Pains
Swollen feet are a typical pregnancy symptom. This is related to increased uterine pressure and blood flow, which produces swelling. This fluid buildup can cause aching feet and ankles that are difficult to treat. Your pregnant massage therapist, on the other hand, will be able to facilitate the movement of this fluid by using specific drainage techniques to reduce the soreness associated with this swelling buildup.
How Does a antenatal Massage Differ from the Early Stages of Pregnancy to 38 Weeks?
One of the most common myths about massage during pregnancy is that it should be avoided during the first trimester. When conducted by a skilled antenatal practitioner, massage during the first trimester is not only safe but can also be beneficial throughout the early months of transitioning to motherhood.
Pregnancy Massage Prior to 38 Weeks of Pregnancy 
The main purpose of pregnancy massage during the early stages is to relax the mother and help her cope with all of the significant changes and hormones in her body. We've mentioned a few things that could be included in a pregnancy massage before the 38-week mark below.
Breathing exercises
Visualisations  (To help cope with changes in the body)
Rejuvenation
Deep relaxation
Pregnancy Massage Post 38 Weeks of Pregnancy 
At 38 weeks of pregnancy, in the third trimester, pregnancy massages will be a little different. Below, we've discussed what might be explored during a 38-week pregnancy massage.
Specialist poses
Stretching
Building a workout routine (To prepare the pelvis and legs for labour and delivery)
Preparing for labour
Using the birthing ball
Pregnancy Massage in Sheffield
At Katie Bell Physiotherapy & Wellness, we have highly experienced pregnancy massage therapists as well as an expert team of Women's Health Specialist Physiotherapists that can support and advise you throughout your pregnancy journey, from the first trimester to post-natal.
To book your pregnancy massage appointment or to enquire about a Women's Health Physiotherapy assessment please contact the clinic or follow this link to find out more.
Our award winning services will help you move better, feel better and live better. Contact us today!