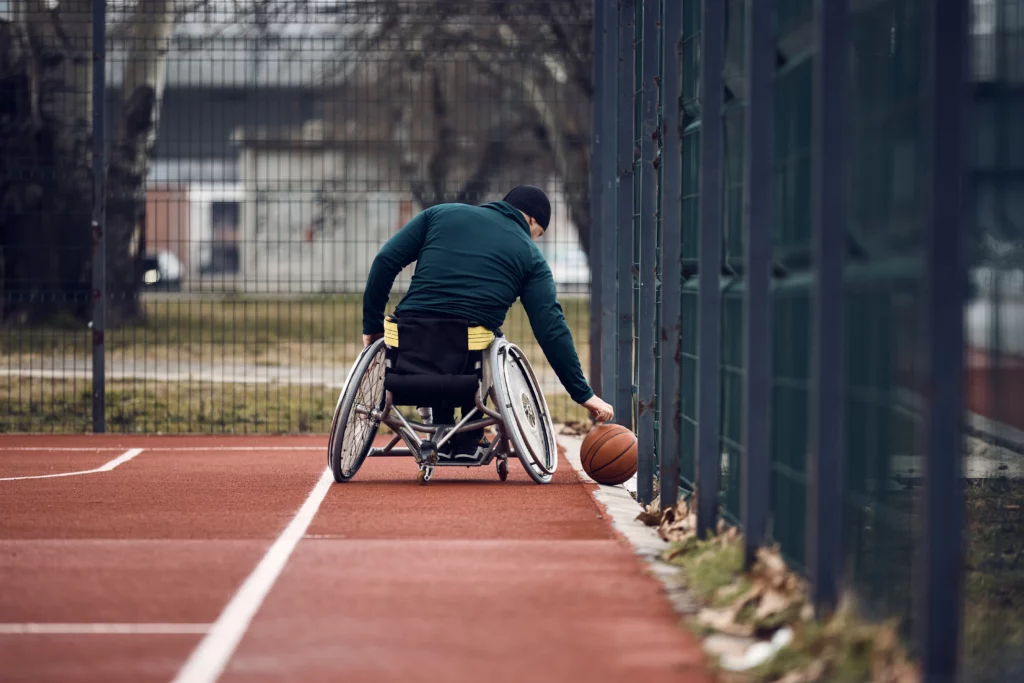 Staying active with disabilities is essential to keep the body strong, flexible and mobile. However, people with disabilities have less access and opportunity to engage in sport, which reduces their overall physical and mental health. This article aims to shed light onto the topic of adaptation in sport, providing some examples of the common adaptive sports and their benefits.
What are adaptive sports?
Adaptive sports are competitive or recreational sports for people with disabilities. There are many similarities between adaptive sports and typical sporting activities, however, adaptive sports allow additional adaptations and modifications necessary for people with disabilities to participate.
Adaptive sports are an amazing way for people with disabilities to engage in physical exercise to keep fit and healthy. Furthermore, sports provide the perfect environment for people to make new friends, let off steam and unleash their competitive nature in a safe, supportive and inclusive setting.
What are some common adaptive sports?
The vast amount of adaptation in sport may just surprise you! With the ever-surging popularity of the Paralympics, our eyes are being opened to how many adaptive sports there are and the elite level para-athletes compete at.
Here is a list of a few of the more common adaptive sports:
Cycling
Wheelchair Rugby
Fencing
Wheelchair Hockey
Dance
Sailing
Slalom
And many, many more!
However, these two adaptive sports are becoming increasingly popular:
Wheelchair Basketball
Wheelchair basketball is one of the most popular adapted sports. Infact, there are leagues and competitions all over the world. The adapted version requires high levels of fitness and stamina due to both the dimensions of the court and the height of the basket being the same as in classic basketball. Wheelchair basketball is adapted by the chairs having either 4 or 5 wheels but other than that, the sport remains unchanged. Wheelchair basketball is a real test for those wanting to test out and challenge their physical capability.
Wheelchair Tennis
Wheelchair tennis adheres to most of the rules of tennis for able-bodied players. For example, the size of the court is the same, and the type of racket and rules regarding the ball are the same. However, in the adapted version, the tennis ball is allowed to bounce twice and it can also land outside the court on the second bounce. These mild changes to the game of tennis provide a more inclusive nature to the adapted version of the sport.
What are the benefits of taking part in adaptive sports?
Participation in sports provides lots of benefits for individuals, ranging from physical, mental, emotional and social, and this is no different for adaptive sports. In fact, you could argue that there are more benefits for sport participation for those with disabilities.
Increased Social Life
Many people participate in sport for the great social benefits it provides. Meeting your friends several times a week for training and match days brings a large sense of social inclusion and reduces your risk of feeling isolated. Furthermore, the social benefits don't stop with the actual sport participation, your teammates become your friends, which provides further social interaction outside of the sporting environment.
Improved Physical Fitness
Nowadays, the risks of physical inactivity and sedentary behaviour are widely known. Nevertheless, the vast majority of people don't meet the weekly physical activity guidelines recommended by the NHS. However, by participating in an adaptive sport, your training sessions and match day games all count towards improving your cardiovascular fitness and overall physical and mental wellbeing.
Sports Physiotherapy at Katie Bell Physio
Sports Physiotherapy involves the diagnosis, treatment and future prevention of sporting related injuries for athletes to be fit to return to their chosen sport.
Treatment of sporting related injuries usually consists of a range of techniques, including but not limited to sports massage, mobilisations, acupuncture, shockwave therapy, self management strategies and lifestyle advice.
Adaptation in sports allows, you to open yourself up to a certain degree of sports injury risk, like with any activity or sport. However, by working with a Physiotherapist, we can help reduce your risk of injury through training advice and injury prevention strategies whilst also rehabilitating current injuries to swiftly return you to full fitness.
Get in touch with one of our qualified Physiotherapists today to learn more about adaptive sports and our sports physiotherapy programs.
Our award winning services will help you move better, feel better and live better. Contact us today!